Due to the increasing number of inquiries we get here at Hatch about NFC tablets and smartphones, this month's article will be based on the usage of NFC in these devices.
Let's start by explaining what NFC is, the technology involved and the differences between it and RFID.
What is NFC?
NFC or Near Field Communication is a radio technology standard that works with small data volumes over short ranges allowing them to be transferred.
NFC devices and NFC tags can pass information or data from one device to another by putting them very close together or touching them.
It works in two ways:
This is when you have two devices that can read and write to each other. This allows you to transfer data like documents, photos, business cards etc. by tapping two NFC devices together.
This is when a powered device, like your smartphone or tablet, reads and writes to an NFC tag or chip. You can write commands from your powered device onto the tag and then when the device touches or gets close to the tag it will read the commands and perform the actions such as turning on/off bluetooth or opening a specific APP. Later on in the article, I will go through some useful and creative ways that this can be used.
Let's go into some more detail…
The maximum data transfer rate of NFC is 424 kbit/s. The maximum working distance of NFC is under 20 cm however you would rarely see a reader with this range in the market. For example, bank cards usually have a maximum range of only 5 cm. This short range reduces the likelihood of unwanted interceptions or data tampering whether they are malicious or accidental.
The shorter the range the less likely a third party can disrupt or tamper with a data transfer via NFC. It also prevents any malicious user trying to intercept your transfer or your device accidentally intercepting someone else's transfer.
Here is a short video from Wikipedia explaining NFC in a nutshell.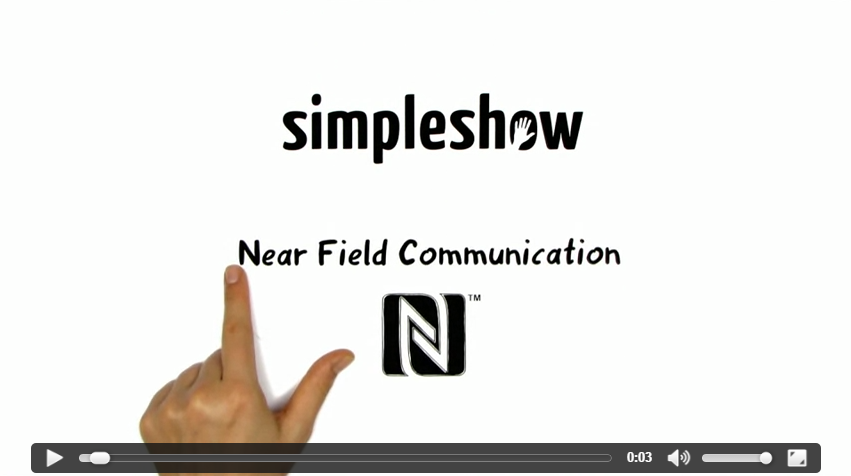 What's the difference between RFID and NFC?
NFC is like a specialized subset within the RFID family.
RFID runs on 3 different frequencies (Low Frequency (LF) 125 -134 kHz, High Frequency (HF)13.56 MHz and Ultra High Frequency (UHF) 856 MHz to 960 MHz). NFC only runs off the High Frequency 13.56MHz.
The frequency differences relate to the range difference. NFC has a max range under 20 cm while RFID can have a range of up to 5-6m (passive UHF tag) or up to 30m for larger UHF tags.
NFC also has the ability to have two way communications while RFID is a Read Only technology.
NFC Uses for Android Devices
There are already a number of articles explaining the many uses of NFC in smartphones and tablets. In this article, I will cover some of the more interesting and practical uses I have come across.
Hotel Room Keys
Simple as this, you check in via your phone, download your room key onto your phone and open your room door with your phone. No need to wait at check in desks and fill out forms.
This is not only a function for hotels; it can be used for anyone using Airbnb or other guest house services.
NFC for Payment
One of the main goals of technology is to make things easier, more seamless and more convenient. Advancements in payment technology make it unnecessary to carry around a wallet/purse with cash, coins, and cards.
NFC payment has been available in the UK since 2011. All you need to do is wave your NFC device within a few centimeters of a terminal to pay for something. Below are features of Android Pay and Samsung pay:
Android Pay – This is Google's official solution to NFC payments. It replaces the Google wallet system (which will still remain for person to person payments).
Contactless payments to over 700,000 retailers worldwide.
Supports fingerprint verification in phones with fingerprint scanners.
Compatible with Android 4.4 KitKat or above.
$30 limit without authentication process.
$100 limit which will require you to enter your fingerprint, PIN or a pattern for payments above $30.
Samsung Pay only works with a select number of Samsung phones that have NFC function.
The credit/debit card must be Visa, MasterCard or American express.
Works with over 12 different banks.
Add membership and loyalty cards.
Concerns of NFC Payment
With NFC making payments so much easier there are some concerns surrounding it:
1. Are NFC payments secure?
Yes. The data is first transferred through encryption so the merchants cannot steal your data. Second, it uses pin code protection so only you have the key, password or fingerprint to access your money.
2. What happens if my device is stolen?
There is always a risk of having your personal belongings stolen whether it is your wallet, smartphone or tablet. If your NFC device is stolen the thief would still need to know your password or have your fingerprint in order to make purchases with your device.
Like with all other safety encryptions and code protectors, hackers can always find a way around it as they do credit cards. While it may be more secure than a credit card, risk still exists.
3. Will I still need to carry around my wallet/purse?
This is entirely up to you. Depending on where you are in the world you may be able to live wallet-less like Christina Bonnington did back in 2012 which you can read about in her article My Wallet less Month.
Some people will always carry a wallet, some may never carry a wallet but with an NFC device with you, you can avoid needing the same quantity of loyalty cards, coupons, cash, coins etc…
NFC for Travel
This is similar to NFC payments in that you are using your NFC device to pay for stuff rather than using cash and coins.
Commuters can use their NFC device as a transport ticket. Their transit pass can be stored on their NFC device and easily topped up. During any journey, passengers simply tap their device on an NFC reader at the ticket barrier, or when boarding their train or bus.
Parking meters in San Francisco have taken payment via NFC since 2011. This is another convenient use meaning you don't need to go to get change if you don't have coins.
Here are some clever uses of NFC and NFC tags
NFC for Hotspots
Stick an NFC tag on your laptop and program it to turn on your NFC devices Wi-Fi hotspot when you place your phone on it. You get instant access to Wi-Fi without having to manually connect.
Some of the NFC Tag APPs have easy tutorials on how to do this while you can also find some youtube video's on how to program the tags. (more details below)
NFC for Sleeping (and waking up)
Program an NFC tag to turn on your alarm, play your bedtime music and turn off other sounds. Place the tag on your bedside tablet so that when you are going to sleep simply place your device down on the tag and the tag will do the rest.
You can also set your alarm to ONLY turn off via an NFC tag. Place this tag somewhere far away from your bed so that you need to get up to turn it off.
NFC for Wi-Fi Network Access
If your guests ask for the Wi-Fi password just point them in the direction of the nearest NFC tag with your network credentials. You can use the Instawifi APP to program the tag with the password.
NFC for Quick Pair with Bluetooth Speakers
Set up a tag close to your Bluetooth speaker and program it to turn on your Bluetooth, Wi-Fi and music player. NFC is all about making things easier so no more tapping and scrolling around on your phone.
NFC Tag Apps
In order to set commands between your NFC device and NFC tag you need to download a NFC tag read/write APP. There are a number of free APPs in the Play store that can help you with this including:
NFC TagWriter by NXP stores contacts, bookmarks, geo location, Bluetooth Handover, SMS, Mail, text messages and many more to any NFC-enabled tags as well as to items like posters, business cards, watches and many more containing NFC-enabled electronics. Once data has been stored the application allows also reading and viewing the programmed data including options to launch applications automatically based on the contained data.
Trigger – Task Launcher is a powerful Android automation app that allows you to automate numerous tasks and scripts for your smartphone based on a variety of triggers, such as NFC tags. Creative users can program a wide variety of tasks to be triggered with an NFC tag.
While it has been around for a while NFC is only recently starting to take off in a big way. Most new smartphones will include an NFC reader while it's becoming more common in tablets also due to its numerous uses.
It's all about simplifying everyday tasks whether its travel, making/receiving payments, clocking in and out of work, event ticketing or any other NFC capability it means everything is in the one place, safe and is easy to use.
If you have any questions about NFC or any ideas for NFC usage or an NFC device don't hesitate to get in touch by email or via the comment section below.
As usual -> Hope this helps and that you enjoy!
Garry @ Hatch
PS: If there is any topic you'd like me to cover just send me an email or a tweet.