Illia Grebenkov is a smart fellow who has this brilliant craziness which is quite fascinating. He is also brutally frank and honest as you will see from this interview. But not only is he a smart guy, Illia is a real expert when it comes to Consumer Electronics Quality Control.
This month, to gain an insight into Quality Control and Quality Assurance I got together with him as he is an expert with Electronics Quality Control Expert. He completed a Master's degree in RF Engineering and began his career in the electronics industry in 2006. In 2009 he moved to consumer electronics and started working in the quality control area.
This interview brings us through Illia's journey harvesting some insightful information on quality control procedures that you can use for yourself. This post includes Illia's view on:
How he creates a quality standard and the influence of customer feedback,
Why different products require different quality measures,
Illia's key advice to minimize your product's defects,
Smart tips on how to choose the right factories,
and Unrevealed insights on the level of quality inspection performed by Chinese factories.
Creating a Quality Standard for Electronic Devices and the influence of Customer Feedback
Illia began working with eReaders at a company that initially outsourced their quality control team which was managed by a Taiwanese man in Guang Dong. Illia's role was to create the quality standards to which the quality control team was to follow.
How did he create these standards? "Basically just from logic" Illia laconically said.
Illia sips his coffee and continues:
"So for the cosmetic quality standards I needed to quantify the maximum scratch size or gap size between plastic parts that was acceptable and so on and this was just from my personal perception. I would analyze some scratches and decide what is acceptable and what is not based on its length, thickness and positioning."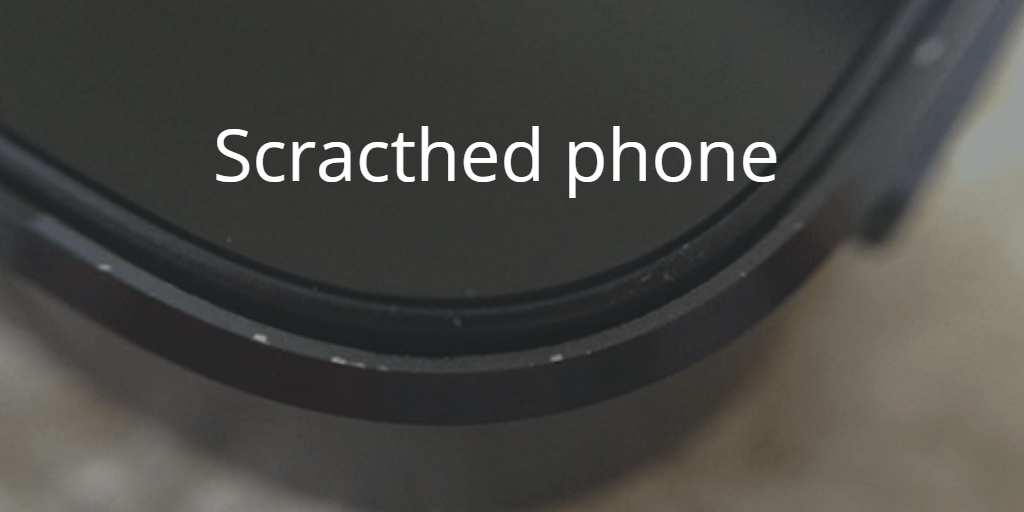 Illia was unable to base his standards on customer feedback, as his company hadn't accumulated any feedback at that time, so they had to be based on his own perception.
What he has found out since those early days, based on years of customer feedback, is that "the things that I was caring about, it turns out that end users didn't care about so much so we have learned what matters most [to end users]."
Indeed, customer feedback provides information on how the Quality Control can be improved but it is never sufficient to guarantee a perfect inspection. For this the quality inspector has to go beyond what the end users say they care about.
When dealing with Quality Inspection, do the different types of electronic device have their own standard?
While Illia started with eReaders he now mainly works with Custom Android device Manufacturing. The difference between eReaders and Android phones or tablets he says "is actually huge."
"EReaders and Android Phones have absolutely different technology for display, they have absolutely different criteria for quality explanation." Indeed, according to the norm ISO 9000 quality can be defined as: "the totality of characteristics of an entity that bear upon its ability to satisfy stated and implied needs".
Illia continues: "Talking about the difference between Android phones and tablets, basically it's mainly the same stuff but its different screen sizes. Except the importance of different parameters, for example a tablets 3G antenna sensitivity is not as important as it is in the phone."
So while the design of some electronic devices may look similar, especially with the increasing size of smart phones and the decreasing size of tablets, when it comes to both their development and quality control standard you will find that they will have at least some subtle differences.
How to work upstream to minimize the defects rate of Electronic Devices.
Illia explains the procedures in controlling the quality mentioning three essential areas of the inspection.
Reliability by Design
The quality control starts upstream by working on the design to increase reliability:
"Reliability is defined by design so before we launch the model we refine the design and make sure there won't be any massive defects. Of course there is always a chance of this but it is extremely uncommon. Choosing an existing design that is tried and tested can save time and is often the safer option"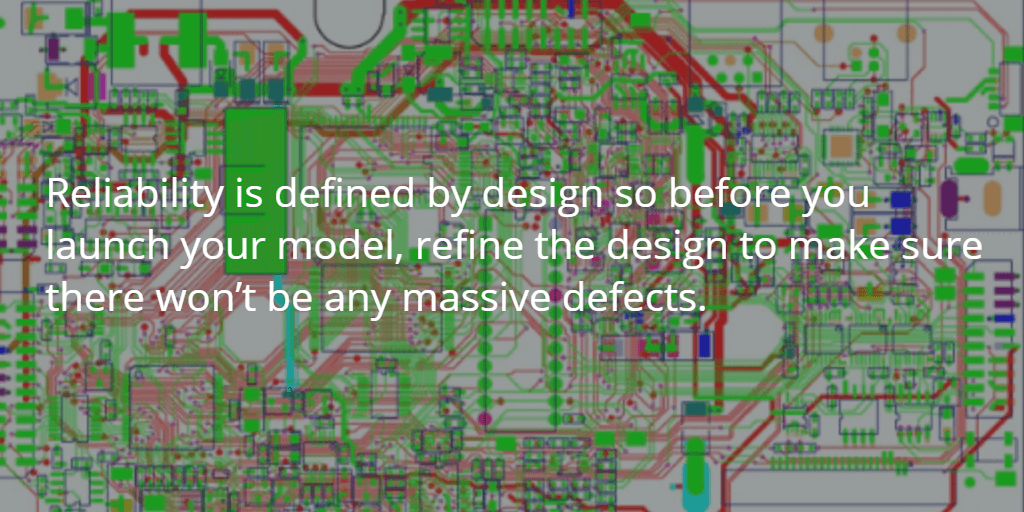 Functional quality
"For the functionality inspection, for say 10,000 pieces, we would have a sample size of 315 pieces. Acceptable quality level is about 1% for functional defects. If it is more than this then we check every unit based on the parameters of what failed. For example if we check 315 units and find that 20 (6%) of them have SD cards that don't work we then check the whole batch for this problem."
To avoid having to check a full batch in such situations it is possible to find and address possible functional defects early by checking a number or pieces from the first few hundred produced. It is also advised that the pieces in the inspection sample are picked from different periods of the production.
Cosmetics quality
He continues insisting that the selection of the right factory can eliminate potential defects. He illustrates the case with an example:
"For cosmetic inspection we check every single unit. The average Chinese manufacturer will provide about half defective units. Only about 10% of the factories are able to keep between 10-20% defective units so these are the kind of factories that we are working with. This 10-20% of defective units will then be separated by our quality control team and we will get the factory to rework them. This amount is possible to rework but if its half or more it is not possible."
Illia is highlighting the necessity of working upstream to avoid 'massive defects' with
The choice of an existing design or spending enough time on the design before manufacture,
Catching possible functional defects early,
Partnering with the right factory.
The Defects you should pay attention to during the Quality Inspection of your Electronic Device.
The most common defect in Android phones and tablets is dust under the touch panel. That's why factories should have clean rooms, anti-dust rooms and air shower chambers at the entrance to their factory floor.
One massive problem is that even the ones that do have these anti-dust systems in place they rarely use them strictly or properly. Therefore when evaluating assembly facilities for Hatch to work with, Illia uses a dust monitor to check the quantity of dust particles in the air to be sure of the dust levels.
Based on comparing scores of different tablet and smartphone factories, some rare factories are able to keep their dust related defect rate to lower than 20%. These are the ones that take sufficient measures to minimize dust in the factories. Unfortunately it's difficult to find much lower than this amount without using factories that price themselves out of the market.
Other common cosmetic defects include scratches on the case or the paint being smudged on some of the buttons or more importantly the brand name.
One of the more difficult problems that Illia and his team have to deal with is that of dead pixels in screens. Illia explains:
"The screens are very expensive and it takes a lot of time to check for dead pixels. You also need to disassemble the whole device to replace them so it's a big problem. It doesn't happen that often especially if you work with low resolution displays. Usually the higher resolution displays are those that were rejected by the big brands and technically all of them were rejected by the big brands where say 80% of them would be OK for us while the other 20% would be defective."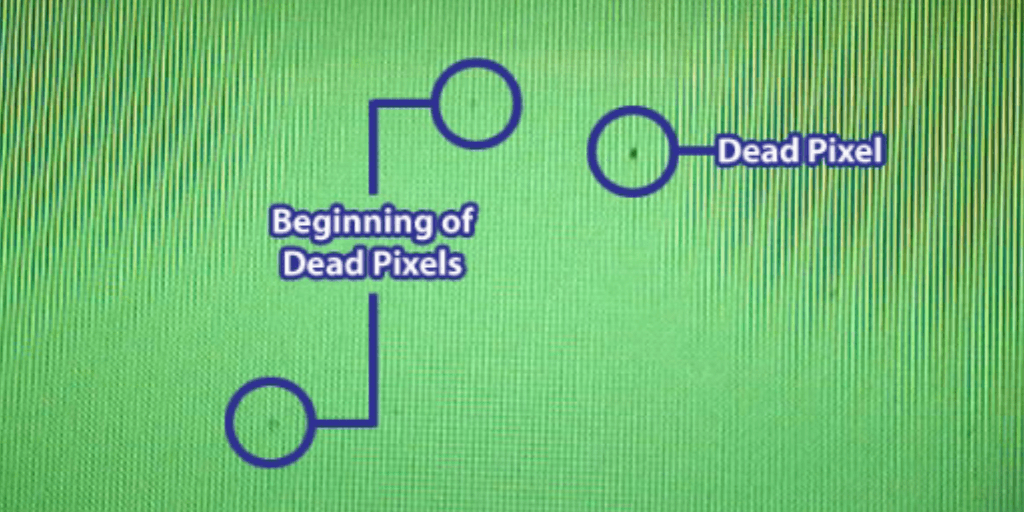 However, even if your device ends up being produced with no defects, the Quality Inspection doesn't end with the assembly line. The last step in the procedure, the packaging line, requires attention too.
The biggest issue here is the IMEI codes being mismatched so it is important to have the correct guidelines issued while also keeping an eye on things to make sure it is all packed correctly. It is also important to make sure the set of accessories are correct as the factory workers have been known to put in the wrong charger at times or forget to insert the user manual.
How to reach your Electronics Quality Standards with Chinese factories
Illia believes that the reason that so many defective devices get through the Chinese factories quality control teams is because:
"The Chinese factories don't have quality teams, I mean they have employees that are called quality inspectors but in fact they never work; simply because if they did work they would be working against their employer. They only exist to be shown to customers that they have QC or find the most obvious problems."
Speaking about the quality standards of the factories in China he adds:
"We basically never pay attention to factories standards as they all use some sort of really poor quality standard even though they may actually produce better than this standard." Interestingly the factories only show that they can do this low standard and don't give their best standards.
With a relatively strict quality standard, when Hatch begins talking to a factory that could potentially meet its standards, we have found that a high percentage of these factories reject working with us due to the factory's own insecurity about their ability to properly manage their own suppliers and workers.
Therefore it's often more important to cooperate with factories who are willing to improve and take responsibility for mistakes, as that's more rare than finding a factory with deceptive potential to offer high quality manufacturing.
So how do you find a factory to work with whose quality you can trust?
"We just see what each factory can theoretically do and what they are capable of not what they declare they can do and then we choose those that can follow our standard.". This involves auditing the factories which is the first step and one of the most important parts of Quality Assurance.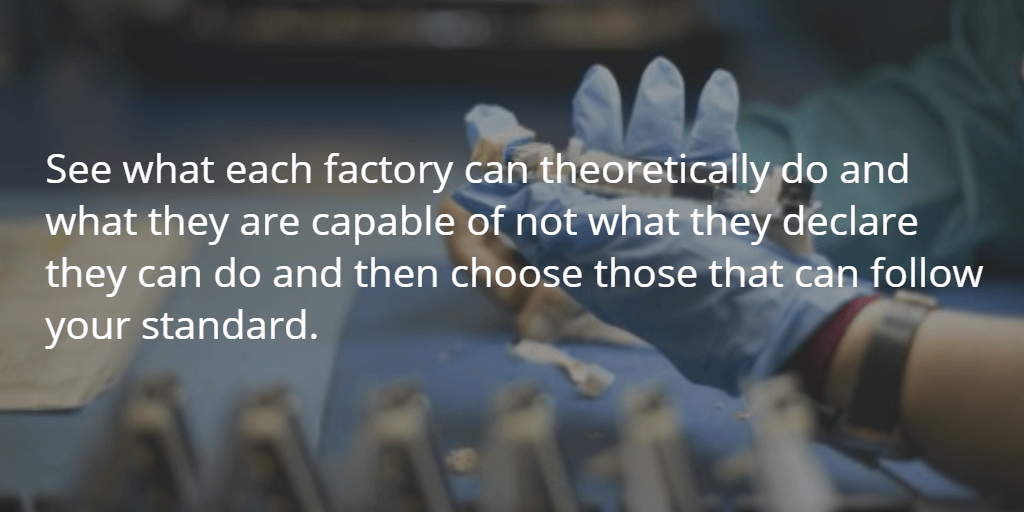 Doing a surprise quality inspection on an existing project that the factory are manufacturing for another brand is the best way to get an indication of the standard the factory are used to achieving, as that catches them off guard and shows their default quality standard.
The design houses must also be audited before selection which consists of checking the samples of the products they make, inspecting them for reliability issues and making sure they are designed well adhering to the basic design rules.
With Hardware manufacturing in China, a supplier who takes responsibility for mistakes is so rare that it must be honored.
Another issue Illia has encountered with the factories is that when they make a mistake they rarely take responsibility for it. This means that he must take the responsibility as he says
"The one who cares is the one out of pocket. For instance we are not the final link of the chain so if we also didn't care we could also not take responsibility and just send to customer but we focus on earning the customer's respect and having a good relationship with the customer and don't want to have a poor image so that is why we take responsibility."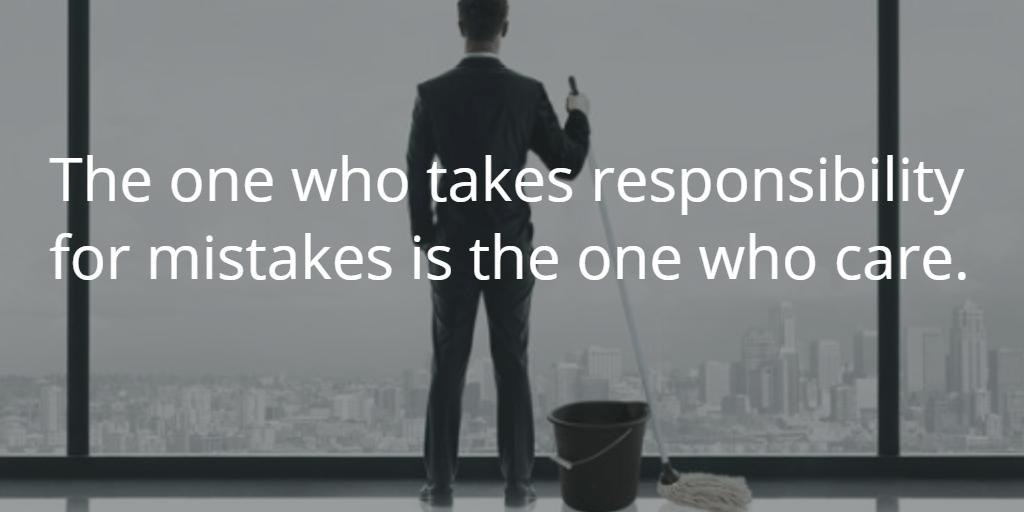 During his time in Shenzhen, Illia has been able to find a number of high standard and trustworthy factories. Illia applies knowledge gained from years of experience (and that he continues to acquire) to managing his own Westerner led quality control team.
Through combining the rare quality-focused factory with Illia's leadership and well trained inspectors from China and Europe, Illia manages to minimize the stress and problems that can be encountered in the manufacturing industry.
Takeaways
Different electronic products require their own quality standard.
To limit defects – analyze factories during the selection phase and then pay great attention to the design of the product before launching the production.
With Smart Phones and Tablets, dust and scratches are the most common defects while a problem like dead pixels can be one of the most difficult to deal with.
You can't count on the factories' own QC team to guarantee your products quality.
To reach your highest standards, don't request it from the factory at first. They often refuse to work with the demanding customers. Instead observe if they can reach it.
As an entrepreneur, if you work directly with a Chinese factory, it is safer to not count on them to take responsibility for their mistakes. Instead be very attentive with the quality control of your electronics or have third party experts who care to help you.
If you have any questions, past experiences, feedback or opinions on this topic please feel free to share them in the comment section below.
By Garry from Hatch