Back in December 2015, I brought you the first of our chipset reviews that looked at some of the more popular chipsets being used in non-telecom (wi-fi) tablets.
With the electronics industry being as fast-paced as it is, a lot can change in 10 months which is why for the next few months you will find updated reviews with some more options that have become available or that have become more popular.
In December I reviewed:
Allwinner's A33
Rockchip's RK3126 and 3128
MediaTek's MT8127
Intel's Z8300
Of these chipsets, the RK3128 and MT8127 have stopped production. The Z3735 from Intel which was expected to stop production last January (as mentioned in the previous article) has been continued and is still a popular choice.
Below is a table comparing 5 other chipsets for Wi-Fi tablet.
| | | | | | |
| --- | --- | --- | --- | --- | --- |
| | MT8163 | RK3188 | RK3288 | A64 | A83T |
| Cores | 4 | 4 | 4 | 4 | 8 |
| CPU Type | ARM Cortex-A53 | ARM Cortex-A9 | ARM Cortex-A17 | ARM Cortex-A53 | ARM Cortex-A7 |
| Maximum Frequency | 1.3 GHz | 1.6 GHz | 1.8 GHz | 1.2 GHz | 2.0 GHz |
| GPU | ARM Mali-T720 | ARM Mali-400 | ARM Mali-T764 | ARM Mali-400 | PowerVR SGX544 |
| Maximum Resolution | 1280 x 800 pixels | 2048×1536 pixels | 3840 x 2160 pixels | 1920 x 1200 pixels | 1920 x 1200 pixels |
| Maximum Camera Res. | 13MP | 5MP | 13MP | 5MP | 8MP |
| Maximum Internal Memory/ Storage | 2GB RAM32GB ROM | 2GB RAM16GB ROM | 2GB RAM16GB ROM | 2GB RAM16GB ROM | 2GB RAM32GB ROM |
| Memory Interface | DDR3 | DDR3 DDR3L LPDDR2 | DDR3LPDDR2 LPDDR3 | DDR2DDR3DDR3L LPDDR2 LPDDR3 | DDR3 DDR3LLPDDR3 LPDDR2 |
| Market | Entry Level | Entry Level | Mid-Range/ High End | Entry Level/ Mid-Range | Mid-Range/ High End |
Types of RAM
RAM (Random Access Memory) is where information from your device is processed and manipulated. The RAM is like the middleman between the storage (ROM) and the processing cores.
The type of RAM in your tablet makes a difference in product usability as it has an impact on the performance speed and power consumption of the device.
There are many different types of RAM. You can see some of the different types in the 'Memory Interface' row in the table above. So what do these terms mean?
DDR2: Double data rate 2nd generation
DDR3: Double data rate 3rd generation
DDR3L: Double data rate 3rd generation low voltage
LPDDR3: Low power double data rate 3rd generation
DDR became obsolete a while back and DDR2 is also heading that way as technology adopts new ways to achieve faster speeds/data rates for RAM memories.
DDR3 technology picks up where DDR2 left off bringing the speed up to 1.6Gbps from 800 Mbps bandwidth (DDR2). DDR3 is still rather large and is more commonly used in desktops. It operates at 1.5V and consumes more power and produces more heat than DDR3L. DDR3L operates at 1.35v.
The most common type of RAM in tablets in LPDDR3. This produces less power and heat again than DDR3L and operates at 1.2v. Below is a comparison table between DDR3, DDR3L, and LPDDR3. (Table Source: Synopsys)
At the moment LPDDR4 is only really being used by the newer higher end chipsets that are more commonly available to the big brands but will become more popular with all models in time.
This video shows a visual performance comparison between LPDDR2, LPDDR3, and LPDDR4.
MediaTek MT8163
With MediaTek more focused on smartphone and telecom tablet IC's, they don't have as many options for wifi only tablet IC.
The MT8163 is an entry level IC that can be found in Acer's Iconia One 10 tablet.
RockChip
RK3188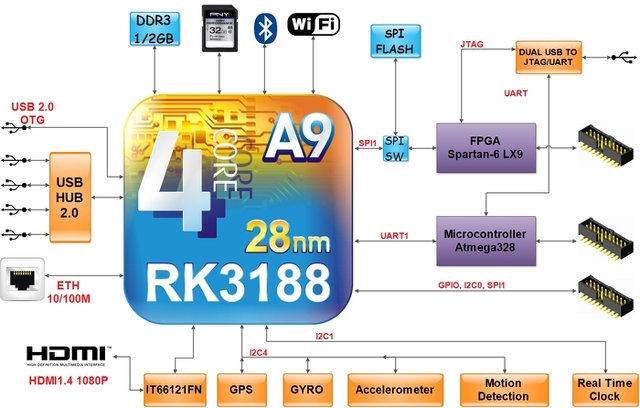 This IC can support a relatively high-resolution screen (2048×1536 pixels) for a chipset that is marketed for use in entry-level tablets. If you require a device with a high screen resolution but the other requirements are fairly basic this chipset could be a suitable option.
It can be found in the Pipo M7 pro tablet.
RK3288
Rockchips 3288 chipset is used in medium to high-end tablets, notebooks, smart monitors and is a very popular choice in 4kx2k TV-Boxes.
While this chipset is mostly used in TV-Boxes due to its ability to support 4kx2k resolution it is still an option for tablets that with a focus on Ultra HD screen resolution.
This IC can be found in the Pipo P9 tablet.
Allwinner
A64
The A64 IC was introduced during the summer of 2015. These chipsets boast a sub-10 seconds system boot, 4K HDMI output and H.265/HEVC 4k video decoding in the hardware.
This chipset offers a low price option for a 64-bit tablet processor based on ARM Cortex-A53.
A83T
The A83T was designed to be high performance but extremely power-efficient octa-core processor. This is why it packs eight energy-efficient Cortex-A7 cores that can run simultaneously at around 2.0GHz.
The InFocus C2107 uses the A83T, you can see a video review of that tablet here.
Hatch has relationships with all the IC companies mentioned in this article and can support projects based around any of them.

If you need help choosing a chipset for your hardware device feel free to get in contact with us here at Hatch. We can provide you with insights and information and make suggestions based on the use case of your device.
Hope you found this article useful and if you have any other topic you would like me to explore or explain please let me know.
As usual -> Hope this helps and that you enjoy!
Garry @ Hatch
PS: If there is any topic you'd like me to cover just send me an email or a tweet.